If you're looking to make buying your first home your biggest goal this year, it's crucial that you lay the groundwork as early as you can. And it's important, especially in today's competitive housing market.


Fortunately, there are some pretty simple but huge steps you can take to get into the home-buying game on a strong footing. By understanding the ins and outs of the process and doing as much preparation, you'll be empowered to make the best decisions to be able to purchase your dream home.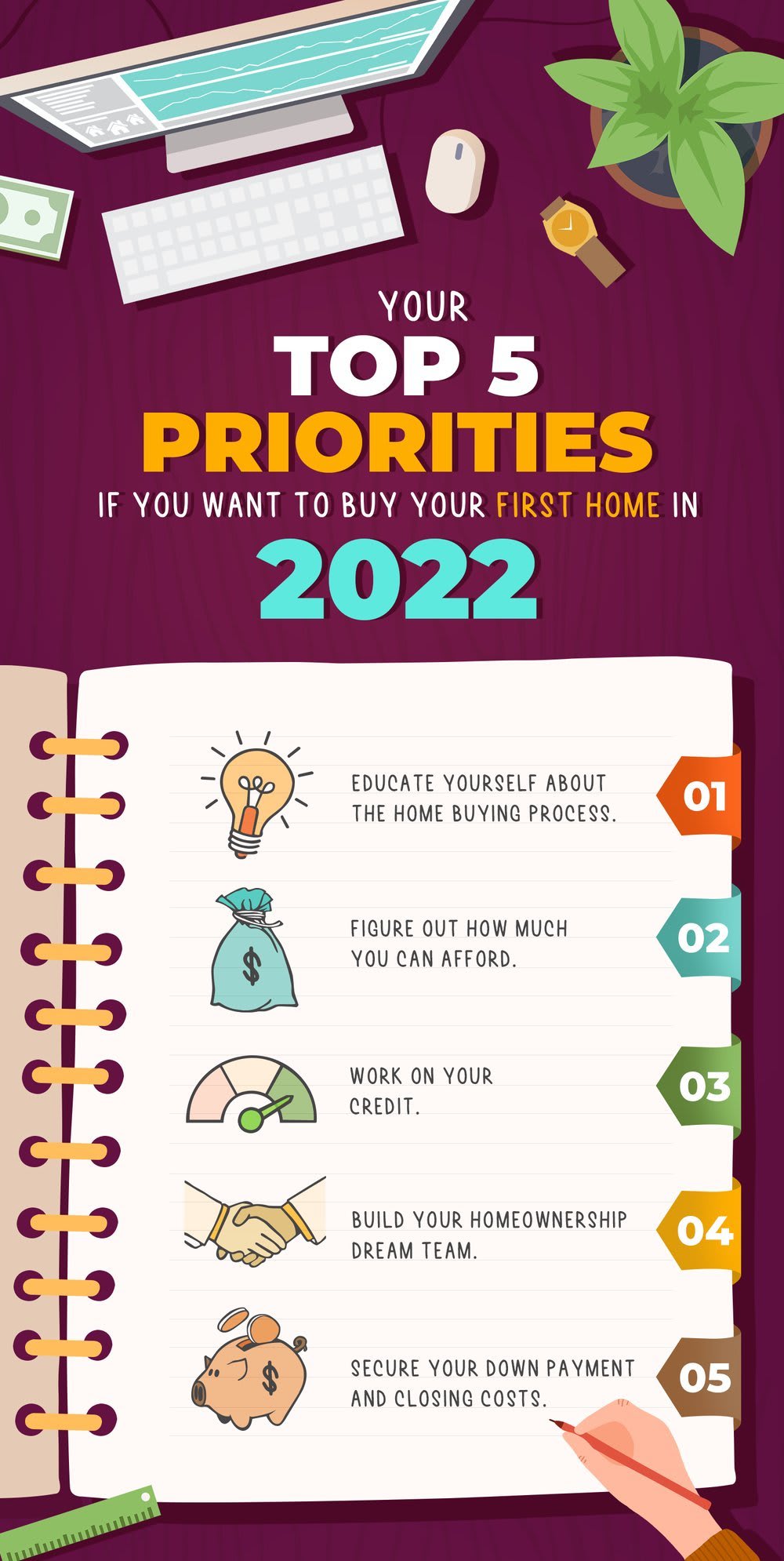 1. Educate Yourself About the Home Buying Process
There are many avenues where buyers, especially first-time buyers, can educate themselves about home buying and homeownership. You can start with various credible online articles, real estate blogs, and enroll in homebuyer education programs and courses usually offered by the government and other housing counseling agencies.


Educating yourself will help you become confident in your decision-making, especially in competitive markets where buyers need to make quick but smart decisions. It's also critical that you understand each step of the mortgage process since a home might be your biggest investment. Homebuyer education can also qualify you for programs that make it easier for first-time buyers to afford a home.


2. Figure Out How Much You Can Afford
Think you're ready to buy your first home? You must know how much money you're working with. Sometimes, what a lender will give you and what you're truly comfortable with are two different numbers. By setting a realistic budget, you're less likely to get carried away and shop outside your price range or stretch too far when making offers, especially when there's a lot of competition.


Aside from your monthly mortgage payments, there are other things you need to cover as a homeowner. Do your homework and carefully factor in other expenses like property taxes, utility costs, HOA fees, homeowners insurance, among others, so you can determine what you can afford and how much your all-in costs will be.


3. Work on Your Credit
The better your credit history, the better the chances you'll have of securing financing with the best terms and rates. A good, healthy credit score will not only help you qualify for most mortgage loans. It can also earn you a more affordable interest rate, which could save you thousands of dollars over the life of the loan.


How to get started: You can get your credit report and score from each of the three major credit bureaus (TransUnion, Equifax, and Experian). The Fair Credit Reporting Act entitles you to one free copy of your credit report from each of the three major credit bureaus every 12 months. You can order them online at annualcreditreport.com. Since errors are common and can drag down your score, getting a copy and reviewing them will help ensure that the information on all of your credit reports is correct and up to date. You'll also have plenty of time to make the necessary adjustments if needed.


4. Build Your Homeownership Dream Team
Buying a home can be complicated and intimidating. This is why finding the right team of professionals by your side is crucial. They will help you navigate through the entire process and reach your goals.


Consider having on your team a local and experienced real estate agent, whose expertise is vital to your home search and will ensure that you get the best deal possible. A trusted mortgage lender or home lending advisor can help you understand how much you can afford, what financing options are available and best for you, and where you can get assistance suited to your situation. Your agent can also refer you to other professionals that will be part of your homeownership dream team, including a real estate attorney, home inspector, contractors, appraiser, title company, home insurance agent, among others.


5. Secure Your Down Payment and Closing Costs
One of the biggest challenges facing first-time home-buyers is having enough money upfront for both the down payment and closing costs. This is why securing these things should be a priority. Conventional wisdom says you should put 20 percent down to the table as a down payment on a house so you can get a more favorable loan term and avoid having to pay extra for mortgage insurance. But according to the 2021 Home Buyers and Sellers Generational Trends Report by the National Association of Realtors® (NAR), the median down payment for all buyers was 12 percent. Knowing that you have to come up with a little less money than expected means that homeownership is more attainable than you think.


Since you've already figured out how much budget you're working with, you need to research the down payment requirements for your desired loan. And regardless of what percentage is your goal – 3 percent or even 20 percent of the purchase price – start planning how you can set aside that money. Seek ways to cut spending and set aside a portion of each paycheck to go directly into your home buying fund.