Selling a home is a serious venture for any homeowner. The process could be both time-consuming and emotionally challenging, more so if you've never done it before. You'd get anxious just thinking about all the steps it takes to list and sell your home. Or be overwhelmed by the fact that you have to remove most of your personal belongings to make your home ready for showings. The process is unlike any other financial transaction in your lifetime, which is why it's easier to make risky decisions that could sabotage your home sale.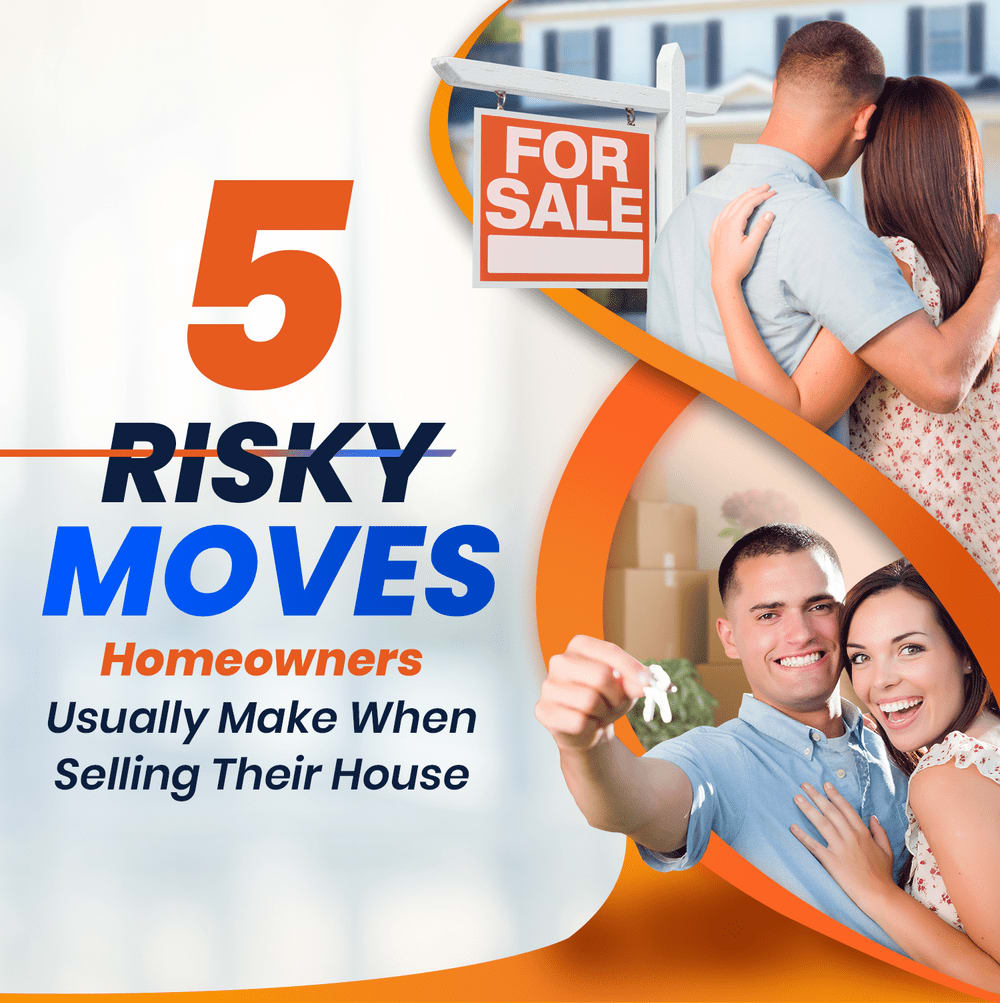 Remember that many of these blunders are easily avoidable with little know-how and the right mindset and attitude. Hopefully, after reading this article, you'll be able to avoid them so you can be well on your way to a smooth sale.

Even with the wealth of knowledge and resources available out there and the current high demand for homes, there's still no substitute for the experience of a local real estate agent.


While it's tempting to sell on your own, For Sale by Owner (FSBO), you'll miss out on an agent's professional insight and guidance. This is key to a successful and less stressful home sale. According to the National Association of Realtors 2021 Profile of Home Buyers and Sellers, FSBOs sold at a median price of $260,000 last year, which is significantly lower than the median of agent-assisted homes at $318,000.


A good agent has your best interests at heart, especially in setting a competitive selling price and negotiating offers so you can get more money on the table. If you decide to skip an agent, be prepared to do more legwork yourself, including handling all the paperwork and pitfalls involved in the real estate deal.

Better-looking properties undoubtedly attract more buyer interest. This is why many home sellers fall into the trap of over-improving their homes. They make improvements that have little return on their investment, especially only cosmetic ones.


Before you spend a lot of money renovating your house, consult your real estate agent to make sure you are spending your money wisely. Remember that the amount you'll make from your renovating efforts isn't always more than the amount you invest. Aside from the price of improvements, you need to consider the disruption to the household, unexpected costs, and the general headache of dealing with the remodeling process.

Furthermore, buyer preferences and needs vary, so a feature that might look good to one buyer may seem superficial to another.


Your agent should be able to provide a list of repairs or suggestions to better prepare your home for sale, including easy but low-cost improvements like adding a fresh coat of paint and improving your home's curb appeal.

You may think your home is worth more after you made significant repairs and improvements. This is why setting a high list price sounds like a great plan for a successful sale. After all, you can bring down the price later on or when the situation calls for it, right?


But this type of strategy involves a lot of risks. For starters, setting your list price too high may cause you to lose a ton of money on potential buyers who cannot afford such a property. And since most buyers are well educated in today's market, they might steer clear of your home knowing that it's overvalued. Once a home has sat on the market for too long, depending on average days on the local market, buyers and agents will start to assume there are problems with the house. And these assumptions will continue even after the price has been reduced.


With the help of your agent, you can set a reasonable list price by looking at the value and selling price of comparable homes in and around your area, called a comparative market analysis. Underpricing your home has more potential to attract multiple queries and offers, which will make room for you to increase the asking price. As a result, you might end up making a greater profit than you initially anticipated.

While many closing costs are the buyer's responsibility, there are closing costs sellers need to cover as well. Some of these costs may include homeowners association fees, property taxes, attorney fees, transfer taxes, and title insurance. You also may be asked to pay an escrow fee, a brokerage fee, and a courier fee. You may also need to budget for a title policy, which ensures that the title is free and clear.


Your potential buyer may use closing costs as a bargaining ticket. Especially if you're eager to sell or in a hurry to move and don't want to risk losing the buyer. Many of these fees are negotiable but still, it pays to be prepared. So don't forget to inquire about these costs so you'll have a clear idea of how much money you'll get after the sale.

When it comes time to say goodbye, keeping your emotions in check is always the hardest part. Especially when it's time to sell your first house, where you've spent time and effort turning it into a home filled with memories.


But when you decide to sell, you need to start thinking of yourself as a businessperson rather than a homeowner so you can look at the transaction from a purely financial perspective. Your home is a product that needs to be sold, and the market isn't a place that is reflective of your circumstances, but a place where you as a seller and the buyer agree upon terms to successfully sell the product.


Understanding this will help you distance yourself from the emotional aspects of selling the property. So that when you get a low offer, you won't see it as an insult to your home's condition and value. Instead, you see it as a good start for negotiations and something you can easily decline. If there've been comments about parts of the home that buyers want to renovate or remodel, don't take it as a personal attack to your taste, but rather a difference in preferences.